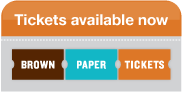 The Adventures of Tom Sawyer
Show Dates: March 7th, 8th, 14th, 15th, 21st, & 22nd (with a Matinee and Evening performance on the 2nd weekend)
Directed By: Aaron Cleveland
The classic Mark Twain story jumps off the page and comes to life in this adaptation of America's favorite book. The Adventures of Tom Sawyer is the irresistible story of a fourteen-year-old boy growing up in the heartland of America.
Set in 1840 Missouri, The Adventures of Tom Sawyer is the tale of young Tom Sawyer and the never ending mischief of which he so often finds himself a part of; whether it's matching wits with Aunt Polly, tricking his friends into white-washing a fence for him, or narrowly escaping the clutches of a murderous villain. Along with best friend Huckleberry Finn and love interest Becky Thatcher, the greatest Tom Sawyer exploits are plucked from the book and plopped on the stage.
Written by: Charles George
Produced by special arrangement with Baker's Plays.
The Mission Statement of Center Stage Productions
Center Stage Productions, a faith-based community theater, exists at Southport Presbyterian Church to develop the artistic talents of members of our community and to produce quality family entertainment in a Christ-centered atmosphere.
Goals
Encourage and strengthen the creative talents of each person.
Assist in the spiritual development of all involved.
Provide quality entertainment that is family friendly and is consistent with biblical messages and truths.
Center Stage Productions is, by leaps and bounds, and with critical acclaim, becoming the leading community theater production company on the south side of Indianapolis. Since 1997 we've introduced hundreds of theater goers to positive and heartening drama experiences.
What makes Center Stage Productions stand out above the crowd? Good question! Our continuing goal is to become a premier producer of quality family entertainment. We aim to present a wide spectrum of dramatic works that are at times comedic, at times provocative, at times heart wrenching—and always in good taste. We strive to be a place where you can bring the whole family with confidence, knowing that your ticket dollar will provide theater that will entertain, not embarrass. For more information, please call the Southport Presbyterian Church office at 317-534-2926 and leave a message for Center Stage Productions.